KOSAKA SHOTEN
Since more than 100 years, we sell Japanese garden stones, genuine stone objects and garden trees at the heart of Tokyo. Today we deal mainly in natural or hand-made (if sculpted) stones which are hard to find anywhere else ; if you are looking for the last piece to complete your garden, we are here to help you.
photo (top) : Sculpted Steppingstone, with an image of 'Shishi' - lion-like imaginary creature
OUR STONES
You can take a look of some of our collections by following the links below. If you are interested, we would sincerely suggest you to come over to our store where you may touch and taste the beauty of our stones in more natural surroundings. They show different faces depending on season, weather, and time.
CURIOUS ?
Our FAQ page is here.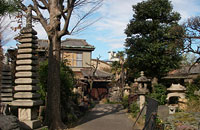 Our store and office are located in Meguro ward, Tokyo, near Yûtenji Station (6 min. from Shibuya Station by Tôyoko line). We are open from Monday to Saturday, 8:00 till the sunset (We MAY open our gate during weekend upon request). Please contact us beforehand anyway.
CAUTION : We are not very good at speaking English. Please be prepared. Sorry for that !
KEY FACTS
Company Name : Kôsaka Shôten Limited
President : Motoaki Kôsaka
Business Started : in 1910's
Company Founded & Registered : 1954
Address : 1-9-11, Gohongi, Meguro-ku, Tokyo
Tel : 03-3712-1417
Business : Sale of Stone Components for Japanese Gardens, Garden Keeping & Property Management
1 min. walk from Yûtenji Station (Tôyoko Line - 6 min. from Shibuya Station)
A couple of cars may be parked within our store (please advise in advance)